English · Spanish · French · Italian
Pilar tiene como meta primordial asistir a sus clientes, colaboradores y la comunidad mediante la creación de vínculos sólidos. Nacida en Barcelona, España, domina el catalán, español, italiano, francés e inglés, estableciéndose como una agente de alcance internacional.

Con una trayectoria consolidada en el sector del lujo, Pilar está profundamente familiarizada con las expectativas y anhelos de una clientela distinguida. Antes de su llegada a Miami hace 11 años, ostentó el cargo de directora ejecutiva en Baleria Bahamas Express, convirtiéndose en la primera mujer en liderar dentro de la industria del ferry, un campo que demanda una gran dosis de confianza, honestidad, integridad, destrezas para negociar y un compromiso con la excelencia en el servicio, competencias que la distinguen en el ámbito profesional.

La incesante curiosidad de Pilar y su habilidad para adoptar e instaurar las estrategias de marketing y ventas más recientes, aunado a su constante inversión en formación profesional, la han posicionado entre los TOP PRODUCERS de Miami, año tras año.

Broker associated with EeXp Realty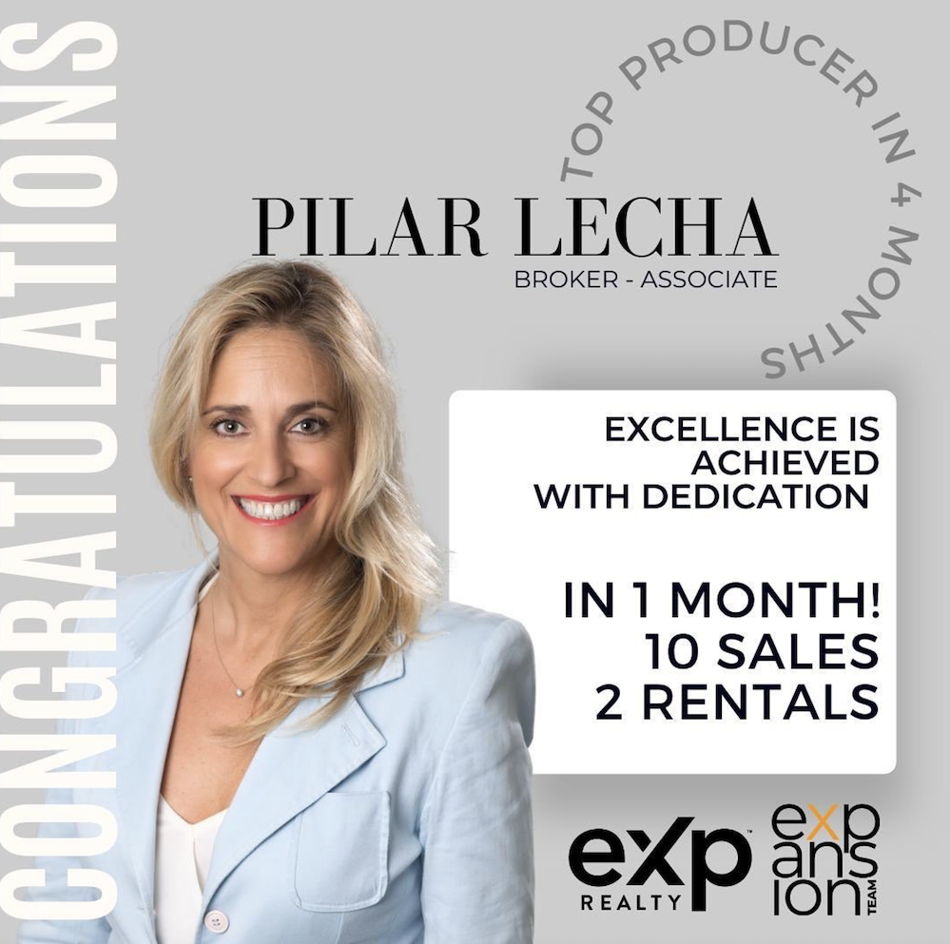 Sold on
3 beds · 2 baths · 2,085 ft²
A11045669
Bayshore Plaza Unit 5
498 NE 50th Ter, Miami FL, 33137
Sold on
3 beds · 3 baths · 1,795 ft²
A11213377
Vizcayne South Condo, Unit 4408
253 NE 2nd, Miami FL, 33132
Sold on
4 beds · 4.5 baths · 2,850 ft²
A11094728
Auburn Heights
2149 SW 30th Ct, Miami FL, 33145
Sold on
2 beds · 2 baths · 1,200 ft²
A11093759
King David Towers Condo, Unit 1001
3411 Indian Creek Dr, Miami Beach FL, 33140
Sold on
2 beds · 2 baths · 1,363 ft²
A11219205
Vizcayne North Condo, Unit 3103
244 Biscayne Blvd, Miami FL, 33132
Sold on
2 beds · 2 baths · 1,146 ft²
A11079568
500 Brickell East Condo, Unit 3902
500 Brickell Ave, Miami FL, 33131
Sold on
3 beds · 2 baths · 1,594 ft²
A10318969
Silver Bluff Est Sec C
2511 SW 26th Ln, Miami FL, 33133
Sold on
2 beds · 2 baths · 1,293 ft²
A11058021
Vizcayne North Condo, Unit 4707
244 Biscayne Blvd, Miami FL, 33132
Sold on
2 beds · 2 baths · 1,203 ft²
A11349647
Vizcayne North Condo, Unit 2908
244 Biscayne Blvd, Miami FL, 33132
Sold on
2 beds · 2.5 baths · 1,590 ft²
A10945550
Vizcayne North Condo, Unit 903
244 Biscayne Blvd, Miami FL, 33132
Sold on
2 beds · 2 baths · 1,012 ft²
A11012892
Brickellhouse Condo, Unit 2110
1300 Brickell Bay Dr, Miami FL, 33131
Sold on
2 beds · 2 baths · 940 ft²
A11333111
Vizcayne South Condo, Unit 2501
253 NE 2nd St, Miami FL, 33132
Sold on
2 beds · 2 baths · 929 ft²
A11414575
Vizcayne North Condo, Unit 1410
244 Biscayne Blvd, Miami FL, 33132
Sold on
2 beds · 2 baths · 1,357 ft²
A10598382
null, Unit 11G
2451 Brickell Ave, Miami FL, 33129
Sold on
2 beds · 2.5 baths · 1,113 ft²
A11066229
Eloquence On The Bay Cond, Unit 902
7928 East Dr, North Bay Village FL, 33141
Sold on
2 beds · 2 baths · 1,020 ft²
A10867838
King David Towers Condo, Unit 1302
3411 Indian Creek Dr, Miami Beach FL, 33140
Sold on
1 beds · 1 baths · 659 ft²
A10983188
Ocean Point Condo, Unit 1019
345 Ocean Dr, Miami Beach FL, 33139
Sold on
2 beds · 1 baths · 1,190 ft²
A10524212
Federal Way Amd
510 NE 77th St, Miami FL, 33138
Sold on
2 beds · 2.5 baths · 1,340 ft²
A10987360
Mint Condo, Unit 2505
92 SW 3rd St, Miami FL, 33130
Sold on
0 bed · 1 baths · 530 ft²
A11050920
The Decoplage Condo, Unit 640
100 Lincoln Rd, Miami Beach FL, 33139
Sold on
2 beds · 2 baths · 1,058 ft²
A10807166
Vizcayne South Condo, Unit 803
253 NE 2nd St, Miami FL, 33132
Sold on
1 beds · 1 baths · 842 ft²
A10979563
Icon Brickell Condo No 3, Unit 4706
485 Brickell Ave, Miami FL, 33131
Sold on
1 beds · 1 baths · 806 ft²
A11373791
Vizcayne North Condo, Unit 304
244 Biscayne Blvd, Miami FL, 33132
Sold on
1 beds · 2 baths · 1,093 ft²
A11057941
Vizcayne South Condo, Unit 208
253 NE 2nd St, Miami FL, 33132
Sold on
2 beds · 2 baths · 989 ft²
A11053087
Vizcayne South Condo, Unit 2302
253 NE 2nd St, Miami FL, 33132
Sold on
1 beds · 2 baths · 989 ft²
A10118096
null, Unit 2302
253 NE 2nd St, Miami FL, 33132
Sold on
4 beds · 3 baths · 1,658 ft²
A10421867
West Miami Shores Sec A
10441 NW 5th Ave, Miami FL, 33150
Sold on
1 beds · 1 baths · 802 ft²
A11052771
Vizcayne South Condo, Unit 2904
253 NE 2nd St, Miami FL, 33132
Sold on
1 beds · 1 baths · 802 ft²
A10850678
Vizcayne South Condo, Unit 1105
253 NE 2nd St, Miami FL, 33132
Sold on
2 beds · 2 baths · 935 ft²
A10628755
Wind, Unit 3014
350 S Miami Ave, Miami FL, 33130
Sold on
1 beds · 1 baths · 806 ft²
A2200787
null, Unit 906
253 NE 2 ST, Miami FL, 33132
Sold on
1 beds · 1 baths · 802 ft²
A10407855
Vizcayne South Condo, Unit 2904
253 NE 2nd St, Miami FL, 33132
Sold on
1 beds · 1.5 baths · 978 ft²
A11018965
Vizcayne South Condo, Unit 422
253 NE 2nd St, Miami FL, 33132
Sold on
1 beds · 1.5 baths · 978 ft²
A11012342
Vizcayne South Condo, Unit 423
253 NE 2nd St, Miami FL, 33132
Sold on
1 beds · 1.5 baths · 978 ft²
A10953917
Vizcayne South Condo, Unit 425
253 NE 2nd St, Miami FL, 33132
Sold on
0 bed · 1 baths · 506 ft²
A10855849
Vizcayne North Condo, Unit 237
244 Biscayne Blvd, Miami FL, 33132
Sold on
1 beds · 1.5 baths · 978 ft²
A11036039
Vizcayne South Condo, Unit 412
253 NE 2nd St, Miami FL, 33132
Sold on
1 beds · 1 baths · 640 ft²
A10614013
Fortune House Condo, Unit 1801
185 SE 14th Ter, Miami FL, 33131
Sold on
0 bed · 1 baths · 560 ft²
A10767661
Vizcayne, Unit 321
253 NE 2nd Street, Miami FL, 33132
Sold on
1 beds · 1 baths · 720 ft²
A10076869
null, Unit 106
20400 NW 7th Ave, Miami Gardens FL, 33169
Rented on
2 beds · 2.5 baths · 1,440 ft²
A11322715
Venetian Isle Condo, Unit 905
801 N Venetian Dr, Miami FL, 33139
Rented on
3 beds · 3 baths · 1,813 ft²
A10705289
The Axis On Brickell Ii Co, Unit PH3920
1111 SW 1st Ave, Miami FL, 33130
Rented on
2 beds · 2 baths · 1,042 ft²
A11290641
Brickell Heights East Con, Unit 3001
45 SW 9th St, Miami FL, 33130
Rented on
2 beds · 2 baths · 1,042 ft²
A11051299
Brickell Heights East Con, Unit 3001
45 SW 9th St, Miami FL, 33130
Rented on
3 beds · 2 baths · 1,363 ft²
A11373376
Vizcayne South Condo, Unit 2809
253 NE 2nd St, Miami FL, 33132
Rented on
2 beds · 2 baths · 1,203 ft²
A11152471
Vizcayne South Condo, Unit 3302
253 NE 2nd St, Miami FL, 33132
Rented on
3 beds · 3 baths · 1,795 ft²
A10551485
Vizcayne North Condo, Unit 4108
244 Biscayne Blvd, Miami FL, 33132
Rented on
2 beds · 2 baths · 1,058 ft²
A11240669
Vizcayne South Condo, Unit 2209
253 NE 2nd St, Miami FL, 33132
Rented on
2 beds · 2 baths · 1,327 ft²
A11056258
Icon Brickell No Two, Unit 1510
495 Brickell Ave, Miami FL, 33131
Rented on
2 beds · 2 baths · 1,255 ft²
A11044136
Icon Brickell No Two, Unit 1511
495 Brickell Ave, Miami FL, 33131
Rented on
3 beds · 3 baths · 1,795 ft²
A10874899
Vizcayne North Condo, Unit 4108
244 Biscayne Blvd, Miami FL, 33132
Rented on
2 beds · 2 baths · 1,058 ft²
A11166123
Vizcayne North Condo, Unit 2109
244 Biscayne Blvd, Miami FL, 33132
Rented on
2 beds · 2 baths · 1,290 ft²
A11029402
Iconbrickell Condo No 1, Unit 2007
475 Brickell Ave, Miami FL, 33131
Rented on
2 beds · 2 baths · 1,203 ft²
A11266722
Vizcayne South Condo, Unit 2902
253 NE 2nd St, Miami FL, 33132
Rented on
1 beds · 1 baths · 732 ft²
A11149214
Icon Brickell No Two, Unit 5608
495 Brickell Ave, Miami FL, 33131
Rented on
2 beds · 2 baths · 1,058 ft²
A11373380
Vizcayne North Condo, Unit 2109
244 Biscayne Blvd, Miami FL, 33132
Rented on
2 beds · 2 baths · 66,207 ft²
A10408097
Miami North, Unit 4204
244 Biscayne Blvd, Miami FL, 33132
Rented on
2 beds · 2.5 baths · 1,113 ft²
A11087700
Eloquence On The Bay Cond, Unit 902
7928 East Dr, North Bay Village FL, 33141
Rented on
3 beds · 2 baths · 1,483 ft²
A10828057
El Portal
485 NE 90th St, El Portal FL, 33138
Rented on
2 beds · 2 baths · 1,203 ft²
A11093076
Vizcayne South Condo, Unit 2902
253 NE 2nd St, Miami FL, 33132
Rented on
2 beds · 2 baths · 1,290 ft²
A10807314
Iconbrickell Condo No 1, Unit 2007
475 Brickell Ave, Miami FL, 33131
Rented on
2 beds · 2 baths · 1,146 ft²
A10699558
500 Brickell Condo, Unit 3902
500 NE Brickell Ave, Miami FL, 33131
Rented on
2 beds · 2 baths · 1,327 ft²
A10432820
Icon Brickell No Two, Unit 1510
495 Brickell Ave, Miami FL, 33131
Rented on
1 beds · 1.5 baths · 761 ft²
A11340949
Four Midtown Miami Condo, Unit H1711
3301 NE 1st Ave, Miami FL, 33137
Rented on
1 beds · 1 baths · 806 ft²
A11284799
Vizcayne North Condo, Unit 2207
244 Biscayne Blvd, Miami FL, 33132
Rented on
2 beds · 2 baths · 1,363 ft²
A10336628
Vizcayne North Condo, Unit 3103
244 Biscayne Blvd, Miami FL, 33132
Rented on
2 beds · 2 baths · 1,293 ft²
A10300671
Vizcayne North Condo, Unit 4707
244 Biscayne Blvd, Miami FL, 33132
Rented on
1 beds · 1 baths · 806 ft²
A11404041
Vizcayne North Condo, Unit 2207
244 Biscayne Blvd, Miami FL, 33132
Rented on
1 beds · 1.5 baths · 1,000 ft²
A11470696
Vizcayne South Condo, Unit 329
253 NE 2nd St, Miami FL, 33132
Rented on
2 beds · 2 baths · 940 ft²
A10528327
Vizcayne South Condo, Unit 2501
253 NE 2nd St, Miami FL, 33132
Rented on
2 beds · 2 baths · 66,207 ft²
A10408601
Miami North, Unit 4707
244 Biscayne Blvd, Miami FL, 33132
Rented on
1 beds · 1 baths · 806 ft²
A11194456
Vizcayne North Condo, Unit 1005
244 Biscayne Blvd, Miami FL, 33132
Rented on
2 beds · 2 baths · 1,226 ft²
A11190724
Bayview Condo At North Ba, Unit 607A
1625 Kennedy Cswy, North Bay Village FL, 33141
Rented on
1 beds · 1 baths · 806 ft²
A11168210
Vizcayne South Condo, Unit 906
253 NE 2nd St, Miami FL, 33132
Rented on
1 beds · 1 baths · 806 ft²
A11370203
Vizcayne North Condo, Unit 1005
244 Biscayne Blvd, Miami FL, 33132
Rented on
1 beds · 1.5 baths · 978 ft²
A11284851
Vizcayne South Condo, Unit 422
253 NE 2nd St, Miami FL, 33132
Rented on
3 beds · 3 baths · 1,575 ft²
A10445915
Gables Marquis Condo, Unit 401
3232 Coral Way, Miami FL, 33145
Rented on
2 beds · 2 baths · 0 ft²
A10116857
0, Unit 2211
999 SW 1 AV, Miami FL, 33131
Rented on
1 beds · 1.5 baths · 978 ft²
A11320947
Vizcayne South Condo, Unit 419
253 NE 2nd St, Miami FL, 33132
Rented on
2 beds · 2 baths · 1,012 ft²
A10415611
Brickellhouse Condo, Unit 2110
1300 Brickell Bay Dr, Miami FL, 33131
Rented on
2 beds · 2 baths · 1,203 ft²
A10262660
Vizcayne South Condo, Unit 2902
253 NE 2nd St, Miami FL, 33132
Rented on
1 beds · 2 baths · 1,093 ft²
A11052950
Vizcayne South Condo, Unit 208
253 NE 2nd St, Miami FL, 33132
Rented on
1 beds · 1 baths · 640 ft²
A11284834
Fortune House Condo, Unit 1801
185 SE 14th Ter, Miami FL, 33131
Rented on
1 beds · 1 baths · 651 ft²
A11342370
The Loft Downtown Ii Cond, Unit 2015
133 NE 2nd Ave, Miami FL, 33132
Rented on
2 beds · 2 baths · 1,058 ft²
A10677363
Vizcayne South Condo, Unit 2209
253 NE 2nd St, Miami FL, 33132
Rented on
2 beds · 2 baths · 1,058 ft²
A10288849
Vizcayne South Condo, Unit 2209
253 NE 2nd St, Miami FL, 33132
Rented on
2 beds · 2 baths · 1,203 ft²
A10702129
Vizcayne South Condo, Unit 2902
253 NE 2nd St, Miami FL, 33132
Rented on
2 beds · 2 baths · 1,163 ft²
A10408553
Gallery Art Condo, Unit 1210
333 NE 24th St, Miami FL, 33137
Rented on
2 beds · 2 baths · 1,203 ft²
A10586606
Vizcayne South Condo, Unit 2902
253 NE 2nd St, Miami FL, 33132
Rented on
1 beds · 1 baths · 640 ft²
A11185046
Fortune House Condo, Unit 1801
185 SE 14th Ter, Miami FL, 33131
Rented on
2 beds · 2 baths · 1,058 ft²
A10750010
Vizcayne North Condo, Unit 2109
244 Biscayne Blvd, Miami FL, 33132
Rented on
0 bed · 1 baths · 397 ft²
A11260858
Concord House Inc Condo, Unit 7
101 Collins Ave, Miami Beach FL, 33139
Rented on
1 beds · 1 baths · 686 ft²
A2188273
South Beach Condo, Unit 2313
110 WASHINGTON AV, Miami Beach FL, 33139
Rented on
2 beds · 2 baths · 1,079 ft²
A10287207
Ivy Condo, Unit 3605
90 SW 3rd St, Miami FL, 33130
Rented on
2 beds · 2.5 baths · 1,179 ft²
A10467997
Latitude On The River Con, Unit 3109
185 SW 7th St, Miami FL, 33130
Rented on
1 beds · 1 baths · 651 ft²
A11437537
The Loft Downtown Ii Cond, Unit 2015
133 NE 2nd Ave, Miami FL, 33132
Rented on
2 beds · 2 baths · 1,058 ft²
A10680285
Vizcayne North Condo, Unit 809
244 Biscayne Blvd, Miami FL, 33132
Rented on
1 beds · 1 baths · 802 ft²
A10529156
Vizcayne South Condo, Unit 1105
253 NE 2nd St, Miami FL, 33132
Rented on
1 beds · 1.5 baths · 843 ft²
A10390635
Marinablue Condo, Unit 3502
888 Biscayne Blvd, Miami FL, 33132
Rented on
1 beds · 1 baths · 651 ft²
A11138019
The Loft Downtown Ii Cond, Unit 1817
133 NE 2nd Ave, Miami FL, 33132
Rented on
1 beds · 1 baths · 802 ft²
A11042379
Vizcayne South Condo, Unit 3104
253 NE 2nd St, Miami FL, 33132
Rented on
2 beds · 2 baths · 1,010 ft²
A10962496
Puerta De Palmas Condo, Unit 1207
888 S Douglas Rd, Coral Gables FL, 33134
Rented on
2 beds · 2 baths · 940 ft²
A10987209
Vizcayne South Condo, Unit 1801
253 NE 2nd St, Miami FL, 33132
Rented on
2 beds · 2 baths · 1,079 ft²
A10886759
Ivy Condo, Unit 3605
90 SW 3rd St, Miami FL, 33130
Rented on
1 beds · 1.5 baths · 843 ft²
A10720235
Marinablue Condo, Unit 3502
888 Biscayne Blvd, Miami FL, 33132
Rented on
1 beds · 2 baths · 1,093 ft²
A10642318
Vizcayne South Condo, Unit 208
253 NE 2nd St, Miami FL, 33132
Rented on
1 beds · 2 baths · 1,093 ft²
A10433268
Vizcayne South Condo, Unit 208
253 NE 2nd St, Miami FL, 33132
Rented on
2 beds · 1 baths · 2,016 ft²
A10272196
East Shenandoah
3373 SW 1st Ave, Miami FL, 33145
Rented on
1 beds · 1 baths · 806 ft²
A11027550
Vizcayne North Condo, Unit 1005
244 Biscayne Blvd, Miami FL, 33132
Rented on
2 beds · 2 baths · 1,093 ft²
A10831475
Vizcayne South Condo, Unit 208
253 NE 2nd St, Miami FL, 33132
Rented on
2 beds · 2 baths · 929 ft²
A10266166
Vizcayne North Condo, Unit 1410
244 Biscayne Blvd, Miami FL, 33132
Rented on
1 beds · 1.5 baths · 978 ft²
A11045618
Vizcayne South Condo, Unit 419
253 NE 2nd St, Miami FL, 33132
Rented on
2 beds · 2 baths · 1,079 ft²
A10411102
Ivy Condo, Unit 3608
90 SW 3rd St, Miami FL, 33130
Rented on
0 bed · 1 baths · 632 ft²
A10797227
Vizcayne South Condo, Unit 2805
253 E 2nd St, Miami FL, 33132
Rented on
1 beds · 1 baths · 640 ft²
A11012846
Fortune House Condo, Unit 1801
185 SE 14th Ter, Miami FL, 33131
Rented on
1 beds · 1 baths · 806 ft²
A10983201
Vizcayne South Condo, Unit 906
253 NE 2nd St, Miami FL, 33132
Rented on
1 beds · 1.5 baths · 978 ft²
A10246796
Vizcayne South Condo, Unit 413
253 NE 2nd St, Miami FL, 33132
Rented on
1 beds · 1 baths · 732 ft²
A10228086
Icon Brickell No Two, Unit 5206
495 Brickell Ave, Miami FL, 33131
Rented on
1 beds · 1.5 baths · 978 ft²
A10429121
Vizcayne South Condo, Unit 419
253 NE 2nd St, Miami FL, 33132
Rented on
1 beds · 1 baths · 802 ft²
A10399003
Vizcayne South Condo, Unit 907
253 NE 2nd St, Miami FL, 33132
Rented on
1 beds · 1 baths · 802 ft²
A10267728
Vizcayne South Condo, Unit 1507
253 NE 2nd St, Miami FL, 33132
Rented on
1 beds · 1 baths · 802 ft²
A10438984
Vizcayne South Condo, Unit 2904
253 NE 2nd St, Miami FL, 33132
Rented on
0 bed · 1 baths · 397 ft²
A11050781
Concord House Inc Condo, Unit 7
101 Collins Ave, Miami Beach FL, 33139
Rented on
1 beds · 1 baths · 802 ft²
A10903529
Vizcayne South Condo, Unit 1507
253 NE 2nd St, Miami FL, 33132
Rented on
0 bed · 1 baths · 632 ft²
A10300663
Vizcayne South Condo, Unit 2805
253 NE 2nd St, Miami FL, 33132
Rented on
1 beds · 1 baths · 806 ft²
A10299255
Vizcayne North Condo, Unit 304
244 Biscayne Blvd, Miami FL, 33132
Rented on
1 beds · 1 baths · 806 ft²
A10855238
Vizcayne North Condo, Unit 304
244 Biscayne Blvd, Miami FL, 33132
Rented on
1 beds · 1.5 baths · 978 ft²
A10666784
Vizcayne South Condo, Unit 419
253 NE 2nd St, Miami FL, 33132
Rented on
1 beds · 1.5 baths · 978 ft²
A10614841
Vizcayne South Condo, Unit 413
253 NE 2nd St, Miami FL, 33132
Rented on
1 beds · 1.5 baths · 978 ft²
A10524803
Vizcayne South Condo, Unit 425
253 NE 2nd St, Miami FL, 33132
Rented on
1 beds · 1 baths · 806 ft²
A10464784
Vizcayne North Condo, Unit 304
244 Biscayne Blvd, Miami FL, 33132
Rented on
1 beds · 1.5 baths · 978 ft²
A10341192
Vizcayne South Condo, Unit 417
253 NE 2nd St, Miami FL, 33132
Rented on
1 beds · 1.5 baths · 978 ft²
A10303910
Vizcayne South Condo, Unit 425
253 NE 2nd St, Miami FL, 33132
Rented on
1 beds · 1.5 baths · 978 ft²
A10920720
Vizcayne South Condo, Unit 425
253 NE 2nd St, Miami FL, 33132
Rented on
1 beds · 1.5 baths · 978 ft²
A10877762
Vizcayne South Condo, Unit 412
253 NE 2nd St, Miami FL, 33132
Rented on
1 beds · 1 baths · 640 ft²
A10801535
Fortune House Condo, Unit 1801
185 SE 14th Ter, Miami FL, 33131
Rented on
1 beds · 1 baths · 640 ft²
A10325373
Fortune House Condo, Unit 1801
185 SE 14th Ter, Miami FL, 33131
Rented on
1 beds · 1 baths · 625 ft²
A10528298
The Loft Downtown Condo, Unit 2009
234 NE 3rd St, Miami FL, 33132
Rented on
1 beds · 1 baths · 625 ft²
A10446380
The Loft Downtown Condo, Unit 1409
234 NE 3rd St, Miami FL, 33132
Rented on
1 beds · 1 baths · 625 ft²
A10841055
The Loft Downtown Condo, Unit 1409
234 NE 3rd St, Miami FL, 33132
Rented on
1 beds · 1 baths · 625 ft²
A10747518
The Loft Downtown Condo, Unit 1409
234 NE 3rd St, Miami FL, 33132
Rented on
1 beds · 1 baths · 625 ft²
A10745504
The Loft Downtown Condo, Unit 2009
234 NE 3rd St, Miami FL, 33132
"Conectando mundos, creando posibilidades: Tu puente global a experiencias de lujo sin precedentes."
Client Reviews
I'm delighted to share my heartfelt appreciation for the exceptional service provided by our realtor Pilar Lecha during the process of renting my apartment. From our very first meeting, her dedication and expertise were evident, and they consistently went above and beyond to make this experience seamless. Pilar demonstrated a deep understanding of the local real estate market, ensuring that my apartment was priced competitively and attractively. They skillfully marketed the property, resulting in a quick and hassle-free rental process. Communication was a standout feature of their service. She was always available to answer my questions, provide updates, and address any concerns. This level of responsiveness and attentiveness made me feel supported and informed throughout the entire journey. Her professionalism, attention to detail, and negotiation skills were invaluable. She successfully found a responsible and trustworthy tenant who met my criteria, putting my mind at ease. In a world where finding the right realtor can be a challenge, I consider myself incredibly fortunate to have worked with such a dedicated and caring professional. Her love for their work truly shines through in the exceptional service they provide. I wholeheartedly recommend her to anyone in need of a realtor, and I look forward to future collaborations. Thank you for making this process a joy.
I have had the pleasure of working closely with Pilar Lecha, a remarkable real estate agent specialist for Downtown Miami, for over five years. As a lawyer handling her clients' transactions, I have witnessed firsthand Pilar's exceptional skills and unwavering dedication to her clients. Pilar strikes the perfect balance between being a fierce advocate for her client's interests and maintaining a compassionate and understanding approach throughout the entire process. Her extensive knowledge of the real estate market, coupled with her strong negotiation skills, consistently leads to successful outcomes for her clients. Pilar's professionalism, integrity, and genuine care for her clients make her an invaluable asset in the real estate industry. I wholeheartedly recommend Pilar Lecha to anyone seeking a trustworthy and accomplished real estate agent in Downtown Miami.
Sofie Bocque
Professionalism, Quality, Responsiveness
I have worked with Pilar for both purchasing and selling a property. What makes Pilar exceptional is the combination of her high level of professionalism, and her approach of listening to you and giving you time & attention as needed. On top of that, she is relentless in her search and is a great negotiator. I would recommend Pilar to all my friends, family, and anyone who is looking to buy, sell, or rent a property.
Helena Lim
Professionalism, Quality, Responsiveness
An outstanding realtor. Very professional, knowledgeable, courteous, always seeking the best interests of her client. We have used Pilar Lecha during the purchase and sale of our two units and highly recommend her services..
Pilar is amazing! She helped me so much through my process. She is very professional, dedicated, and cares a lot about helping her clients. I HIGHLY recommend her.
Pilar is a great realtor, which is always looking for the best interest of her clients. Hard-working, dedicated, and patient, she has helped us find the perfect fit for our needs as she knows well Miami and its neighborhoods. I recommend Pilar to my friends and look forward to future business with her again.
Claudio Da Soller
Brickell
Pilar is a great, reliable real estate professional. She is patiently helping me and my future wife to find our dream home in Miami with competence and care. I would definitely recommend Pilar if you are looking to purchase or rent a condo or home in Miami.